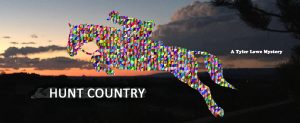 When the body of a televangelist's grandson is found on a Maryland horse farm clutching an eviscerated fox, Tyler Lowe, a state investigator struggling to regain custody of her daughters, finds the case escalating in hours.  With the grieving religious congregation transforming the boy into a saint and land developers and animal rights' activists hovering around the edges, the situation explodes, menacing Tyler's custody prospects and her very life.  
This novel is set against and explores the decline and transformation of old Maryland amid the excesses and predations of social and economic change.
The Death of Hunt Country introduces Tyler Lowe, formerly long-listed for the US Olympic equestrian team, married to a wealthy Virginian, and the mother of three girls.  Once her daughters were in school, she worked part-time for the Fairfax County Police, handling liaison with Federal agencies including the CIA.  Then, a case gone bad put her in the hospital.  When she finally recovered, she found herself divorced, custody of her daughters given to the paternal grandparents, and her horses sold.  Now, living in Maryland and employed by the State of Maryland, she is on her way to regaining custody and putting her life back together.  But can she?
Read a sample chapter below.