PAT STUART – AN ACCIDENTAL SPY,  HORSE BREEDER, POLITICIAN, AND AUTHOR
Lucky enough to have survived (so far) a diverse and rich life, three-time CIA Chief of Station, Pat Stuart, has focused in the past several years on writing.  She has self-published five books–one espionage novel and two family memoirs plus one travel and one how-to book.    In the past couple of years, she has completed but not published a mystery and an historical novel and is working on another spy novel and a memoir.  The latter, The Tattered Spy, deals with the mental and personal costs of her 31-year love affair with espionage.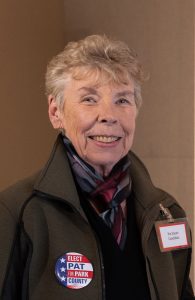 Pat lives on the family farm in NW Wyoming and remains active in county affairs, currently working to bring a new public library to Powell, Wyoming.